(Originally published at DragIllustrated.com on 2/1/2018)
The youth movement has arrived in NHRA Pro Stock. As we see beloved veterans such as V. Gaines, Larry Morgan, and 2012 class champion Allen Johnson either retire or drastically reduce the number of races in which they participate, young drivers such as Alex Laughlin, Drew Skillman, and newly crowned NHRA Road to the Future award winner Tanner Gray make their presence known in a big way.
Gray, the son of Pro Stock standout Shane Gray and grandson of former Pro Stock and Funny Car veteran Johnny Gray, burst onto the scene in 2017 with five Wallys and very nearly a class title. All the more impressive is the fact the Mooresville, North Carolina, resident is barely old enough to vote.
"It means a lot because I don't think a lot of people who come right out of the box maybe get the recognition that we've gotten this year and the success we've had," Gray says of being named to the DI 30 Under 30 list. "It's pretty special to me. To have Rookie of the Year on top of that, it's pretty special."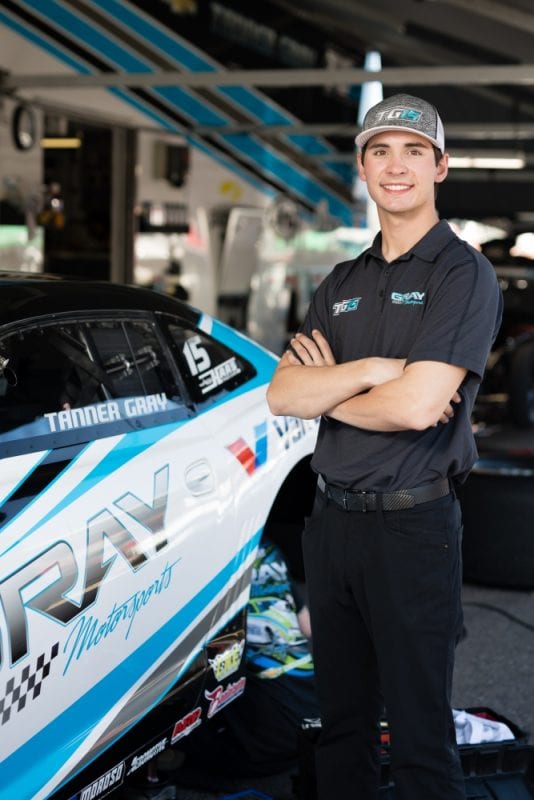 The heir apparent to the family business, the Grays are a close-knit unit. Their bond was on display at this year's US Nationals when, for the first time in NHRA history, three generations – Johnny, Shane, and Tanner – all raced the same class at the same event. Tanner further cemented the Gray legacy when he won earlier this year at Las Vegas, becoming the first third-generation racer to earn a victory in the same class as his father and grandfather. Along with his win at zMAX Dragway in September, Vegas is one of the highlights of an incredible rookie year.
"Those were two pretty special things to me just because to go out there and win the first race of the Countdown and put yourself in the position to win the championship is pretty big," he says. "Especially with all the pressure that comes along with that is pretty significant. That was pretty cool. And my family was at both of those events, so that made it even more special."
As one of the top prospects in a class struggling through challenges, including small fields and being on the receiving end of far less media attention than the two nitro classes, Tanner was happy to hear NHRA reverse its course on shortening the field to eight cars at select races in 2018.
For a family who made its bones in Pro Stock, the Grays' support is important to the survival of the maligned class. The 19-year-old said there are hurdles to overcome, but NHRA's premier doorslammer class is looking good.
"I think only time will tell," Gray says. "I definitely think it's one of the most competitive classes out there. Nine different winners this year which was more than any of the other classes and the racing out there is so tough. It's all so close.
A solid title contender in his rookie season, Gray has no plans to leave Pro Stock, at least not without a title for his team. One thing is certain, however; if Grandpa has any say, Tanner isn't going to graduate to nitro anytime soon.
"Definitely not by his choice, I can tell you that much," Tanner reveals. "I'm just going to focus on what I'm doing and try to get everybody over a championship on the Pro Stock side and we'll see what happens from there."
This story originally appeared in DI #127, the 30 Under 30 Issue, in December of 2017.