(Originally published at DragIllustrated.com 5/12/23)
With both 4-Wide Nationals events in the rearview, NHRA takes its travelling circus to the newly-reopened Route 66 Raceway in Joliet, Ill. (I see you Ziz!) Before we hit Q1 near the Windy City, let's take one more look at Speedway Motorsports Inc's drag racing novelty.
So…is 4-wide racing sustainable? Short answer: Yes.
Probably.
Since spring of 2010, 4-wide has been a fact of life. First were the Pro categories, then Pro Mod, and then finally, Sportsman classes. A high point of 4-Wide at zMAX Dragway in Concord, N.C. was the Southeast Gassers. The Gassers are a strictly-enforced period-correct sanction, their participation creating the ultimate racing time warp as the 1960s met with the new millennia.
Complaints about the format at the "Bellagio of Drag Strips" have been constant since that inaugural event. Know what else is constant? Those sellouts. zMAX typically sees Saturdays at full capacity when NHRA runs side-by-side-by-side-by-side. And surprise surprise, when The Strip at Las Vegas Motor Speedway completed their 4-Wide drag strip and raced the event in the spring of 2018, sellouts became common there, too.
Is it financially feasible? It depends on what you're looking at and what your definition of "feasible" is.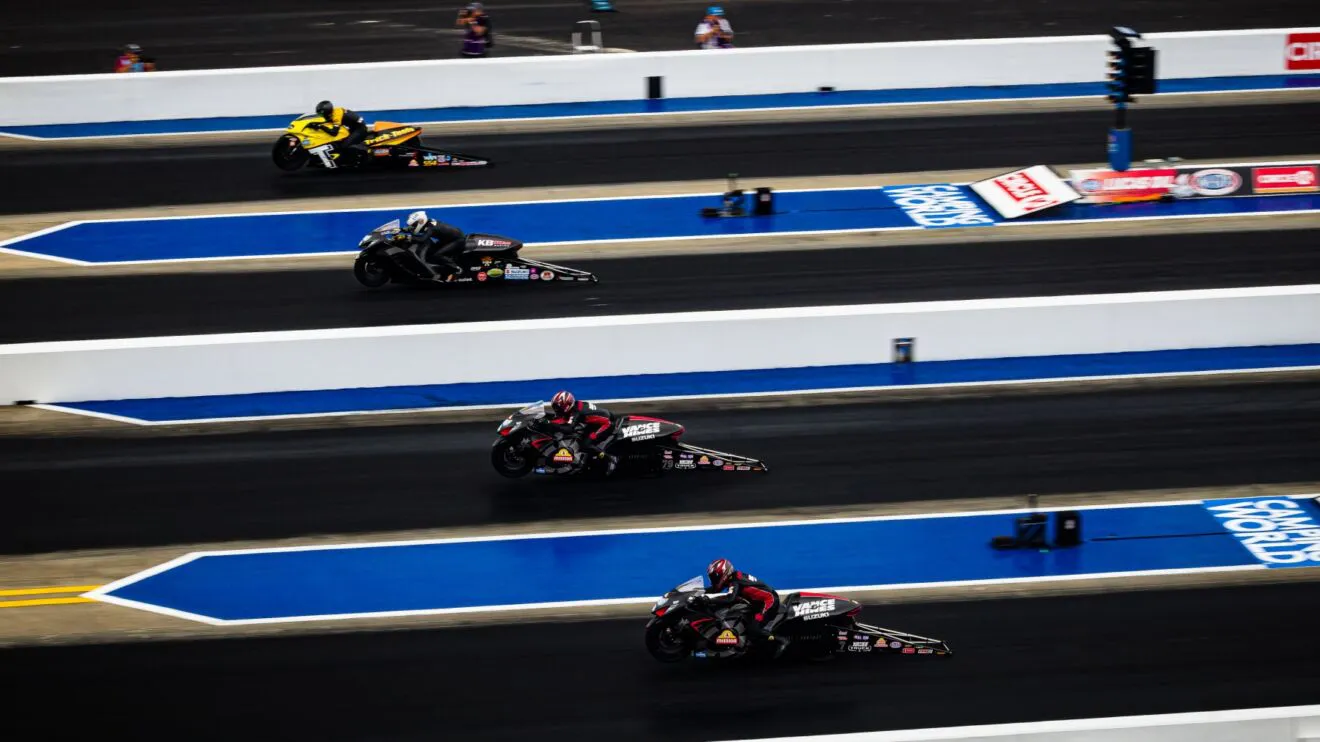 The Strip has an active schedule running almost year round. zMAX does not. In fact, other than the two annual NHRA events (a traditional two-wide race runs in the fall) and the occasional high-visibility event (PINKS, Supercross, Street Outlaws, and the like), one of the most advanced strips on the planet is quiet. I've been told zMAX, the brainchild of the late Bruton Smith, wasn't expected to make a profit. Or break even.
Opinions from the drivers and crew chiefs were and continue to be expected. More than most forms of motorsports, drag racers rely on muscle memory, habit, and timing. As tuning legend Tommy DeLago said recently, 4-wide can throw a wrench in the best teams' plans.
"For crew chiefs, mainly, we kind of have a mental clock when we're up there on the starting line waiting for our chance to run, depending on what pair we are," he said. "When we're racing two-wide, we have more time and we're more used to that time clock inside of us as to when we can make our last calls – tire pressure, how much clutch is on the car, ignition timing, maybe a blower overdrive change."
Not so much when the field is doubled.
Even with the win in Concord last weekend, John Force Racing's Austin Prock said due to the format, he didn't realize he'd won the Top Fuel Wally until he made the corner off the drag strip.
"When you are in the outside lanes, if you are quick, you can catch the win light," Prock said. "I missed that, so I didn't even know I won until I turned the corner. My crew chiefs were so confident today that they told me we are going to go out there and out-run everybody and I believe we did."
In NASCAR over the years, road course racing was seen the same way. Hardcore fans chose those weekends to watch something other than racing on a Sunday. That is, until road course racing became a competitive spectacle for its regular racers. The difference between NASCAR's and NHRA's offerings are, there are several racing disciplines utilizing road courses. There's no drag racing series I know of running 4-wide specifically. If I'm wrong, Bret Kepner will let me know.
The bottom line, as always, is money. The two events tend to be financed well, with only a few of the races since 2010 running sans sponsor. And there's those sellouts referenced above. I know, if you go over to social media where everyone hates everything, 4-wide is terrible, it's a travesty to the sport, it's a fad and a waste of money, blah, blah, blah.
When using social media as an argument against, two things need to be accounted for: the fact those platforms only amplify the loudest, most extreme voices on either side of this (or any) argument; and those packed grandstands. Call it fake news or just a case of your lyin' eyes, but it's a spectacle and a spectacle is more likely to draw outside fans.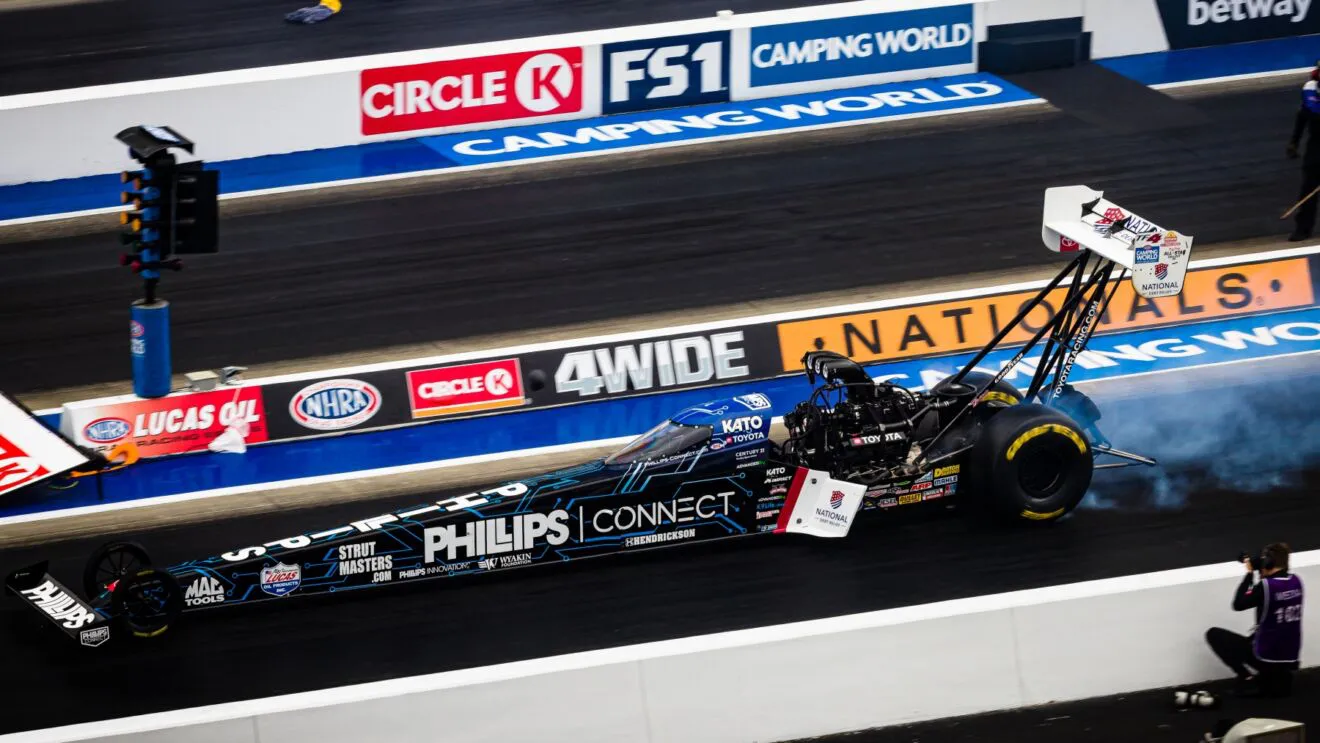 So until the sounds of crickets overpower the sounds of nitro-burning monsters, 4-Wide isn't going anywhere. That, or the drivers and tuners get involved with that nasty U word and sit out the events. Pretty sure I'll win the Big Go in Top Fuel before that happens.
DeLago's driver, 2020 NHRA Rookie of the Year Justin Ashley, summed up a lot of drivers' feelings succinctly.
"I enjoy the 4-wides, but I'm looking forward to getting back to the more traditional style of racing."